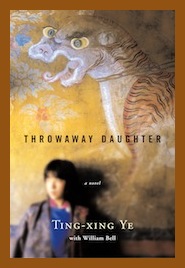 "Lucky me. I had a made-up birthday--December 8, 1980, the day I was found on the steps of the orphanage. I could have been weeks old or a couple of days young; I didn't know and neither did anybody else. I might as well be a lake discovered by an explorer."


award nominations:

White Pine Readers' Choice
Manitoba Young Readers' Choice
Canadian Library Assn. Young Adult Book of the Year
Stellar Book
Snow Willow
Red Cedar Readers' Choice






FAQ

IS THE BOOK BASED ON A REAL STORY?

Throwaway Daughter is a work of fiction. As a matter of fact, before I came to Canada in 1987, I knew no one who had abandoned their daughters as Chun-mei did in the story, nor any throwaway babies. And I had never been inside a Chinese orphanage because they were not open to the public.

IS THE BOOK RELATED TO YOUR OWN LIFE?

No. Yet my life in China for 35 years is a good asset in creating the story. Those who have read my memoir, A leaf in the Bitter Wind, (Doubleday Canada, 1997) might say that Chun-meiís character somehow resembles my growing up in China. One book reviewer calls her "[Ting-xing Ye's] country cousin." But similarities stops right there. When I gave birth to my daughter in 1981 in Shanghai, China, I experienced nothing at all of what Chun-mei has to go through. The thought of giving my daughter away because she was a girl was never an issue, nor was her existence in any danger.


WHY DID YOU WRITE THE BOOK?
As I mentioned earlier, I didnít know much about this phenomenon until I came to live in Canada. (Keep in mind, the Chinese media at that time, or even now, is very tightly controlled by the government. For instance, to this day, the rest of the country doesn't know what really happened in Tiananmen Square on June 4th, 1989.) Some of you may have read or heard about Forbidden City, a novel written by William Bell. I am the person Bill couldnít name in his acknowledgment due to the subject matter. After the book was published in 1990, Bill received many letters from readers; a few were written by parents who had adopted Chinese baby girls. They asked if he would consider writing a book about the abandonment of girls in China so that their daughters could read it when they were older. As a full time high school teacher of English, Bill didn't pursue the idea, so years later I took on the project.

WHERE DID YOU GET THE IDEA FOR THE STORY?

I did quite a bit of research before I began to write. For instance, in 1991 one report of China's Ministry of Civil Affairs said that the country only had 140,000 orphans. But a UN survey revealed that in just one province, Jiangxi, with a population of 40 million, 50,000 babies were abandoned in 1993. Based on that figure, a US sinologist estimated that about one million children are abandoned each year in China. Also in 1993, in one of the orphanages in the city of Nanjing, staff freely admitted that 90% of the 50 to 60 baby girls who arrived there each month would never be adopted. Having lived in China for 35 years and a mother myself, I know only too well that there are no statistics available on the number of unwanted baby girls who are treated less generously. With only one chance to have a male child, many families have taken advantage of options to ensure that they have a boy to raise, options that include abortion of female fetuses, and infanticide.

WHAT WAS YOUR GREATEST CHALLENGE IN WRITING THIS NOVEL?

To tell the story in the most effective way, because it should be heard by anyone who cares to know, was my biggest challenge, because itís a story that is anything but black and white. Although there are characters whose actions we would certainly disapprove of, it's still important for a writer to make the reader understands why the character acted the way he did. It took me two years to finish this novel. After many drafts and trials, I decided to use different voices. In others words, I decided to let those who are involved tell his or her own tale, and to let you, the reader, piece the story together and make your own judgements.

ARE ANY OF THE CHARACTERS BASED ON PEOPLE YOU KNOW?

No, although I named some of the characters after people I know.

DO YOU KNOW ANYONE PERSONALLY WHO WAS ABANDONED IN CHINA AND IS NOW LIVING IN CANADA?

No. In the past years, because of my writing, I have met a few in various places. They are all girls and they are all very happy.